Voy-zone.com Nudist on a nudist beach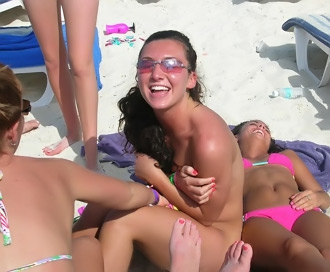 It surely felt weird. All of a sudden I became sort of belle of the ball with men gawking at me like I were the only lady on earth, and women around scoffing and getting visibly nervous. As for our little company, Paul was clearly enjoying himself as he nonchalantly picked up the game right where we left it off. But it was hard to concentrate, and after a couple of ?truths? we dumped the game.
According to Miriam's ?dare? instructions, I was to stay for an entire hour in my birth costume. This I soon came to enjoy to the fullest. Little by little I changed my position so that my buttocks and my hips looked their best. My thighs are somewhat curvy as to my taste, but I know it's what men love. I made a point of making the most of the situation, surveying my audience from behind my sunnies.
Against the expectations of my husband, nobody tried to approach and reason us – lucky for us there were no children around, and thus no exulted hen mommas to pester me. Maybe the fact that we had to men in our company played its role, I don't know. But that hour ran all too smoothly, and when Miriam announced the end of it I was in no hurry to put my scanty back on.
I even walked to the water and skinny-dipped, enjoying the impression I made on the swimmers around me and the familiar sensation of cool water swirling freely around me.
As I said …